Dental Implants in Walsall
Premier Dental Care is proud to be a leading dental implants expert in Walsall with an excellent reputation in placing top quality implants that last a lifetime.
Our experienced dentist Dr Darmesh Mistry (GDC No: 83519) in our dental implants clinic is highly skilled in successfully placing tooth implants and improving the quality of life for many patients in and around Walsall and Bloxwich.
All of our dentists are registered with the General Dental Council (GDC) and we are regulated by the Care Quality Commission (CQC) so you can rest assured you are in safe hands with our team.
If you have one or more missing teeth, dental implants offer a strong, permanent, and extremely realistic alternative to dentures.
Missing teeth don't just leave your smile looking incomplete - they can have a major impact on your life and overall health. From causing chewing difficulties and bone structure issues to having a negative impact on your speech, gaps in the teeth are difficult to ignore.
Dental implants not only address these key health issues. They fill in the gaps so that you can create a complete and flawless smile.
Example of a Dental Implant Bridge at Premier Dental Care, Walsall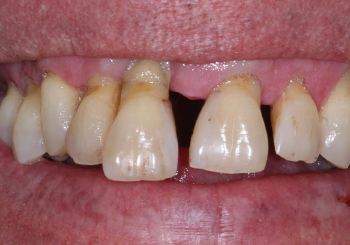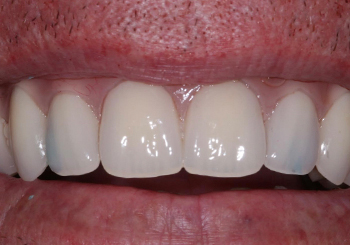 This patient did not like his smile and was concerned about his loose teeth. This case was completed with an immediate implant bridge in one day with our dentist Dr Darmesh Mistry.
What are dental implants?
When we talk about dental implants, we are actually referring to the two sections that make up your new tooth. Your replacement tooth fixture is created in a way that replicates the structure of a natural tooth, including:
The root – the dental implant



When you lose an adult tooth, this leaves a space in your gums where the root used to be. Tooth roots are what gives your natural teeth their stability for day-to-day actions such as biting, chewing, and talking.

Your tooth implant is held in place by a strong titanium cylinder which is gently placed into the gums in the place of your tooth root. When healed, this pole fuses to the bone providing more stability and durability than any other tooth replacement.

This will be fitted by your skilled prosthodontist at our surgery in Walsall.

The tooth – the crown



Your dentist will place an attachment called an abutment to your dental implant. This is used to support your new tooth and keep it fixed to the new root.

You will then have a custom-created tooth replacement fitted to your dental implant. This could be a dental crown, a bridge, or a retained denture depending on how many teeth are missing.

These tooth implants are crafted from dental porcelain using impressions taken from your other teeth. This means your dental implants will look, feel, and function just like natural teeth and blend seamlessly in with your smile.
Why get dental implants at Premier Dental Care?
Dental implant treatments are highly skilled and you should always choose a highly experienced implants expert. We'd like to think our dental implants service is second to none in the area as our registered, highly skilled dentist Dr Darmesh Mistry has many years experience in successfully placing tooth implants for patients in and around Walsall.
Tooth implants allow you to eat, speak and clean your teeth just like you would normally. Better still, you also don't need to remove them at any point as you would with dentures.
Bridges and dentures often put a great deal of pressure on the surrounding teeth so that they can hold the replacement tooth in place. This can cause serious damage over time and leave the empty root cavity of your missing tooth largely unprotected.
In addition to this, dentures and dental bridges are known to be very unstable in your mouth and very visible to other people. Dental implants, on the other hand, look incredibly natural and offer the same chewing force as your real teeth.
As long as you care for your tooth implant properly, this tooth replacement solution can last you a lifetime. Unlike other tooth replacement options, you won't need to replace them unless they become severely damaged.
Same Day Teeth at Premier Dental Care, Walsall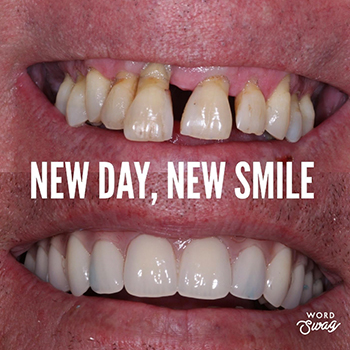 How much do dental implants cost?
At Premier Dental Care, we use only the highest quality products for all of our cosmetic dental treatments. That is why we use Straumann implants for our tooth implant procedures.
We have ensured our dental implants costs are extremely competitive when compared to other expert implantologists in Walsall.
The Straumann Dental Implant System is an industry-leading brand for long-lasting and highly functional dental implants. Replacing your missing teeth with natural-looking dental implants at Premier Dental Care costs from £2,250.
A consultation costs £50 but this is taken off your final treatment price if you go ahead. For our full associated costs (eg you may need bone grafting) see our dental fees page.
0% Interest Free Credit Help
To make this treatment more affordable, you could spread the cost of getting a dental implant with our 0% interest free credit or low payment plan options. Click here to use our Finance Calculator.
Finance examples:
Single implant & crown
0% over 12 months £183.33/ month
36 month agreement with 9.9% APR £67.16/ month
- Note this figure is subject to change
From the moment you walk in to our surgery, you'll be in the safe and capable hands of our highly qualified prosthodontics team. They will be with you through every step of your tooth implant treatment until you leave the practice with your newly perfected smile.
Rebuild your smile with Premier Dental Care in Walsall
Having a beautiful smile can make the world of difference to your self-confidence and quality of life. Premier Dental Care offer the perfect solution to effectively rebuild your smile.
Look and feel truly amazing. Start your dental implants journey today by calling 01922 477 400 or simply enquire online